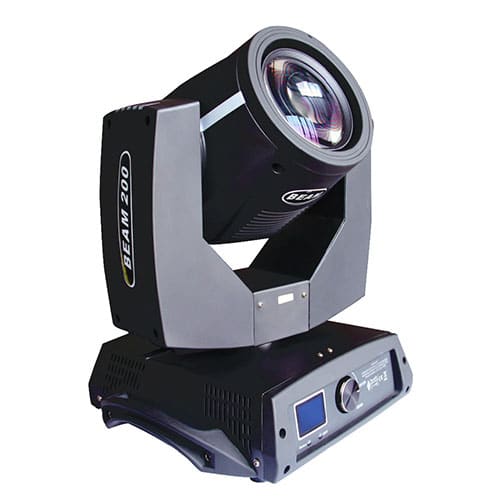 BEAM 200 MOVING HEAD LIGHTS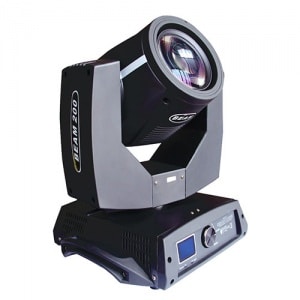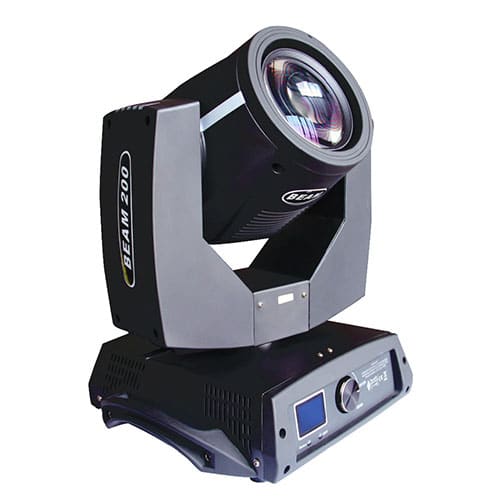 Specifications
Beam Moving Head Light
1.Philips 5R Lamp
2.14 colors + white, 8 fixed gobos + Open
3.8-facet prism
4.Focus,Dimmer,Strobe
Guangzhou Hi-Ltte Electronics Technology Co.,Ltd.
200w Beam Moving Head Light (HH-2) 
FEATURES:

Beam 5R Moving Head Light is a 189W moving beam light with an unprecedented brightness usually achievable only with far greater wattages.
Beam 5R is also groundbreaking for the purity of its beam, which is sharply defined and free of any halo. With its light weight and modest footprint, Beam 5R is small enough to be fitted anywhere – on trusses at live and TV events, on stage, in showrooms or conference rooms.
Specification: 
1 .Light Source: 189W Philips Platinum Projector Lamp
2. Optics System: Electronic ballast and auto switching power supply
Beam angle: 1.8° – 2.5°beam angle
3. Color wheel: 14 colors + white Variable speed color scrolling both directions (rainbow)
4. Gobo wheel: 8 fixed gobos + Open Variable speed gobo scrolling in both directions
5. Prism: 8-facet prism Macro-function for rotating prism effect; prism indexable
6.Control and Programming:13 DMX channels DMX-512
Customizable DMX channel assignment
DMX, stand-alone, master, slave mode
7.Physical Features:White and black color are available
Length: 320mm; Width: 240mm; Height: 493mm.
Quick Details
Type:

Moving Head Lights
Light Source:

Halogen Bulbs, 189W Philips Platinum Projector Lamp
Input Voltage(V):

AC 100V ~ 240V 50,60Hz
Lamp Power(W):

305
Lamp Luminous Flux(lm):

140,000lm@10metres
Lamp Luminous Efficiency(lm/w):

80
CRI (Ra>):

85
Color Temperature(CCT):

Cool White
Working Temperature(℃):

15 – 40
Working Lifetime(Hour):

2000
IP Rating:

IP20
Certification:

BV, CE, RoHS
Emitting Color:

Changeable
Place of Origin:

Guangdong, China (Mainland)
Brand Name:

Hi-LTTE
Model Number:

HH-2
Product name:

200w Beam Moving Head Light (HH-2)
Frost:

Variable Frost Filter (Hybrid effect for Wash)
Strobe:

Variable speed strobe effect
Dimmer:

Dual flag mechanical dimming system
Control:

13 DMX channels DMX-512
Head Movement:

Max Pan-movement: 540° & Max Tilt-movement: 265°
Housing:

composite plastic, IP20
Weight:

15 kg
size:

460*460*560mm