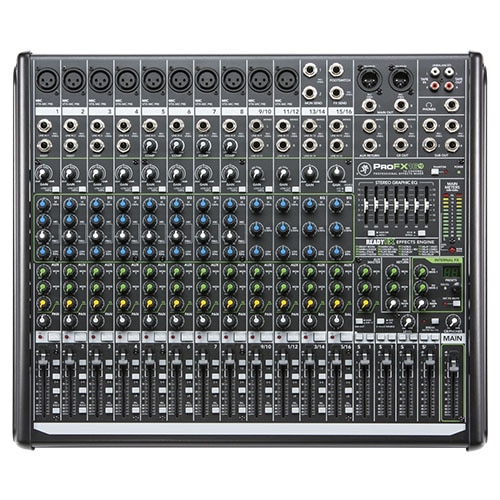 MACKIE PRO FX16 V2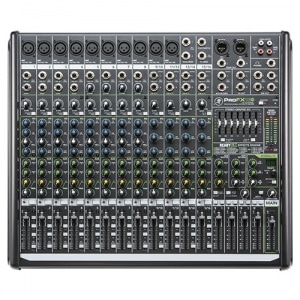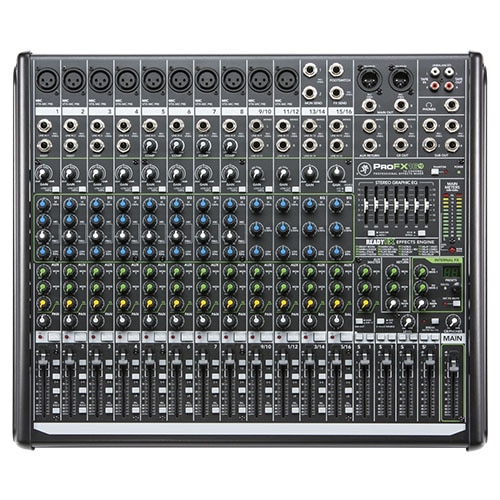 Product Description for the Mackie ProFX16 V2 16-Channel Professional 4-Bus Effects Mixer With USB
Medium format mixer with compression and other effects.
The latest development in Mackie's small format mixers, the ProFX series v2 sounds better than ever and supplies convenient features at every knob, fader, input and putput. This is the ProFX16v2. It features 10 extremely low-noise Mackie Vita mic preamps designed to add life to any input, as well as the all-new ReadyFX effects engine with 16 great-sounding effects including reverbs, delays and choruses. Single-knob channel compression for smooth, even dynamic control (ch. 5-8).
Live applications
A 7-band graphic EQ is available on the master output, switchable for tuning mains or monitors, and an aux output is perfect for driving a monitor mix. A USB output/input can record your show or supply recorded music to the system. There is a 3-band EQ (80Hz, 2.5kHz and 12kHz) on all three input channels. The midrange is sweepable. Each channel features individual channel mutes and an overload indicator. The input scheme features ten XLR inputs with TRS option, as well as dual 1/4″ stereo input channels. A built-in USB interface allows recorded music to be played between sets, and you can even use it to bus your mix to a recording device. 60mm faders.
You can directly connect guitar, bass and other instruments via Hi-Z input or connect a microphone and take advantage of the Vita preamp. It features a 100Hz low-cut filter and 48V phantom power on all mic channels, along with a stereo RCA tape I/O with input level control. A headphone output with separate level control gives your engineer a second point of reference. The ProFX16v2 also has Balanced XLR and balanced/unbalance ¼-inch main outputs, an FX mute with remote control via footswitch, and a break switch that mutes all channels for music playback between sets.
Built like a Mackie
Mackie 's legendary "Built-Like-A-Tank" design is reflected in the solid steel chassis, tough ABS side protection, and quality posts and knobs combine to protect your investment. Rugged and roadworthy are two of the most common adsjectives used to describe Mackie equipment. With mixers, that is a critical attribute. For international traveling, the ProFX16v2 includes a robust internal multi-voltage power supply.
Features
Format
Analog/digital : Analog
Powered : No
Output (8 ohms) : Not applicable
Analog inputs
Total : 16
Mic preamps : 10
XLR/TRS combo jacks : No
XLR only jacks : 10
1/4″ only jacks : 16
RCA (stereo pair) : 1
Phantom power : Yes (+48V)
Analog outputs
Main XLR out : 2
Main 1/4″ out : 2
Aux XLR : Not applicable
Aux 1/4″ : 3
RCA (stereo pair) : 1
Headphone : 1
Onboard effects
Compression : Yes
Reverb : Yes
Delay : Yes
Chorus/flange : Yes
Equalization
Type : Analog
Bands per channel : 3
Treble : Yes
High midrange : No
Sweep high midrange : No
Midrange : Yes
Sweep midrange : Yes
Low midrange : No
Sweep Low midrange : No
Low : Yes
Q : No
Low cut : No
Master graphic : 7-band
Inserts/buses
Inserts (channel) : 4
Inserts (master) : Not applicable
Buses : Not applicable
Sub groups : 4
Connectivity
USB : Yes
FireWire : No
WiFi : No
ADAT : No
Thunderbolt : No
S/PDIF : No
MIDI : No
Other
Width : 28.4″ (950mm)
Height : 8.1″ (206mm)
Depth : 20.1″ (611mm)
Weight : 19.0 lbs. (8.8 kg)
Automation : No
Fader type : 60mm
Motorized faders : No