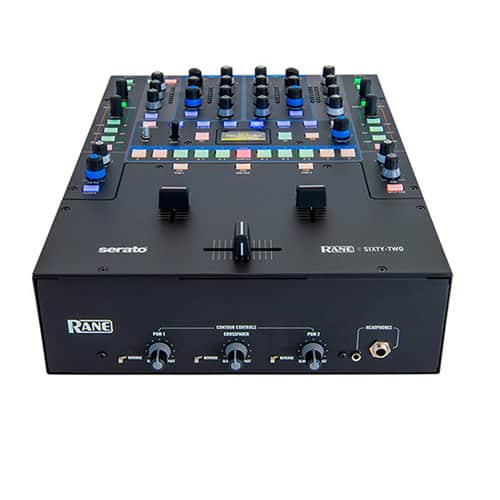 RANE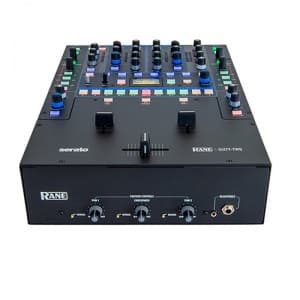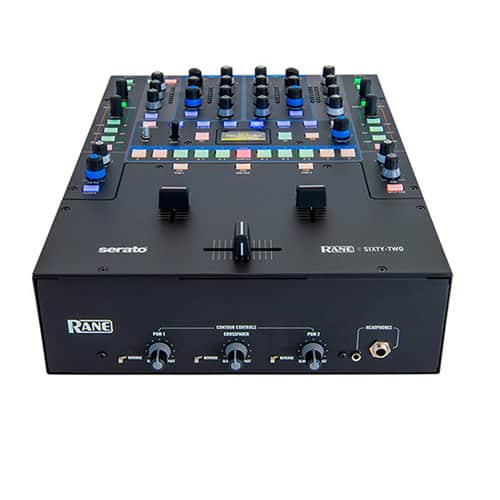 Battle Proven
The Sixty-Two is the ultimate plug-and-play package supporting two-deck digital vinyl simulation, software controls, two USB ports for easy DJ transitions, onboard beat effects, software effects insert and all the record and playback channels you need. The Sixty-Two Mixer supports both analog and Digital Vinyl Simulation (DVS) playback. Serato DJ software and a printed manual are included, and the mixer is backwards-compatible with Serato Scratch Live. It includes Rane's ASIO and Core Audio drivers to use with all the other popular DJ and DAW programs. Two Serato Control Vinyl Records and two Serato Control CDs are included.
Direct control of over 40 Serato DJ or Scratch Live software controls.
Each of the two USB ports supports six stereo record and four stereo playback channels.
Two DJs can share the mixer, each running different software, for seamless set changes.
32-bit floating point audio processing sampled at 48 kHz.
Mic/line input on XLR/TRS jack with gain trim, two-band EQ, Flex FX assign and On/Over controls.
Internal Effects Engine with Filter, Flanger, Phaser, Echo, Robot and Reverb effects.
External analog inserts for analog effects processor and USB Insert for software effects.
USB Aux Input for SP-6 sample playback with HP/LP Filter, Headphone Cue, and Flex FX assign.
Magnetic crossfader and channel faders with reverse and contour controls.
Rane and Serato are proud to be supporting partners with the Rane Sixty-Two Mixer. For more than a decade, artists have chosen innovative Rane instruments to advance their art, and three generations of TTM series mixers have been the top pick for many of the world's best performers. These mixers more tightly integrate performers, music, software, and hardware. The artist adds the passion, imagination and skills.
Internal 20-Channel Sound Card
Why so many channels? The Sixty-Two is able to simultaneously support control-signal pickup and playback for two DVS Decks, provide independent playback for the SP6 sample-player, record both program channels post fader, provide USB send and return for software effects insert and record the main mix, all at the same time.
The Sixty-Two has two USB ports, allowing simultaneous connection of two computers. Each port is completely independent. It is possible to run Serato DJ on one computer while running another DJ or DAW audio software on the other, Mac or PC.
Dual USB ports for simple DJ change over
DJ change over is as easy as 1-2-3! Plug your computer into the second USB port, switch the second program to your USB port, and then switch the first program when ready. This allows a quick, easy, and seamless transition of audio and MIDI from one DJ to the next.
Software controls for Library, Loops, Cues and SP6 sample player
Take advantage of the Sixty-Two's tight integration with Serato DJ or Scratch Live and control the software from dedicated, MIDI mappable controls right on the mixer.
Quickly browse your library and crates to load tracks.
Create, modify and trigger your loops either automatically or manually.
Set and trigger your cue points on the fly.
Switch banks and trigger your samples with quick and easy to access sample triggers.
Tweak the samples with the independent USB Aux playback channel level and filter controls.